The NDIS aims to provide personal support for participants under 65 years of age, with long term or significant disabilities, to get the support you need. The NDIS will fund supports that are reasonable and necessary for participants to achieve their goals.

What is the National Disability Agency (NDIA)?
The National Disability Insurance Agency (NDIA) is the agency that implements the National Disability Insurance Scheme (NDIS). Their priority is to ensure people with disability get the support that they need. The Agency will arrange for someone to work with you to develop your NDIS plan.

What is SWEP's relationship with the NDIA?
The State-wide Equipment Program (SWEP) has been working with the Agency since the beginning of the NDIS in 2013 and has a great understanding of how the Scheme works. SWEP has working arrangements with the Agency as the Scheme rolls out across Victoria. SWEP has been chosen to partner with the Agency because of their experience in providing these supports to people living in the community.


In Victoria, SWEP is a service provider to the National Disability Insurance Agency. SWEP is responsible for meeting most participants' approved Assistive Technology (AT) needs. The NDIA staff will use the SWEP AT Practitioner 'pin-drop' tool to locate a SWEP Registered AT Practitioner who will help you decide what you need. The NDIA will need to give their approval and then SWEP will arrange supply of the AT item(s), home or vehicle modification, by either supplying a reissue AT item or purchasing a new AT item.


Take a look at our February Blog and video that takes a look at the relationship with SWEP & the NDIA.
Participant Pathway Brochure
Throughout this NDIS brochure, your application pathway is explained in an easy step by step guide.

Please note that this brochure is intended to be viewed as a trifold brochure. For optimal viewing click on the link above and print and fold the brochure.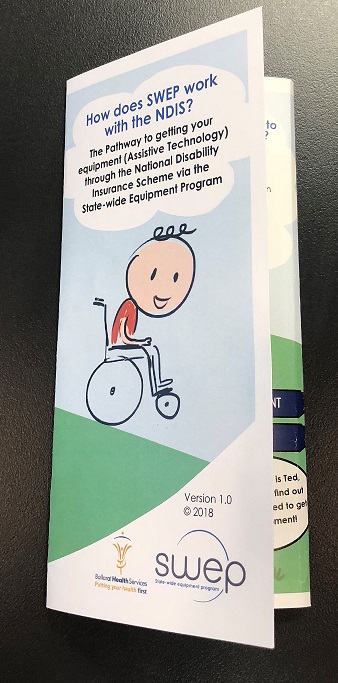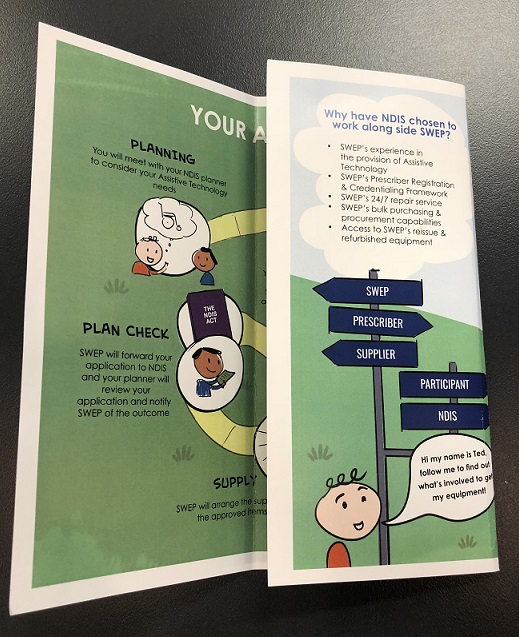 NDIS provides long-term, individualised support that is reasonable and necessary to meet the needs of people with permanent and significant disability.
This includes providing AT items to allow participants to engage in: activities of daily living such as cooking and cleaning, recreational activities, mobility, personal care and safety, and to maintain personal hygiene.