Registration and Credentialing
SWEP has recently reviewed and updated The Standard for registration & credentialing. If you are already registered with SWEP you do not need to register again, but if you wish to change your current registration status the new Standard applies from 1st January 2020. If you have any question please contact swepcaho@gh.org.au

Why do I need to register and credential with SWEP?
The State-Wide Equipment Program (SWEP) registration and credentialing provides assurance that assistive technology is delivered by suitably qualified and skilled Assistive Technology (AT) Practitioners.


What level will I be allocated?
SWEP assigns AT Practitioners a green, amber or red credentialing level that reflects the increasingly level of complexity they can safely and effectively address within a specific AT category.
What happens if I'm not credentialed at a high enough level for my application?
SWEP applications have a matrix that will give your application an overall rating of green, amber or red. The higher the complexity of the consumer and the more customised/specialised the equipment is, the higher the rating of the overall application will be. Green represents basic non customised equipment with low complexity consumers and red represents complex consumers with customised or high risk equipment.
It is important to note that both the item and the consumer complexity is rated, with the highest rating determining the overall application rating. So a very basic item being recommended for a consumer with various complexities will have an overall application rating of amber or red.
If your credentialing level is not at the overall level required, you will need to have your application validated by someone who is credentialed at the relevant level for that category. On submitting your application, the SWEP portal will advise that validation is needed. Using the portal you can send your application to another practitioner within your organisation who has the relevant credentialing level for your application. If you are a sole practitioner, work in a rural area and do not have access to a higher credentialed practitioner you can request to have the application sent to a SWEP Clinical Advisor who will validate the application for you.
If your application requires validation from one of our Clinical Advisors, the type of clinical rationale they will review in your application includes the following:
Whether you have provided adequate clinical reasoning for the recommended item/s
Brief history of your consumers diagnosis/medical history, likely progression and relevance to the requested item/s
Demonstrated evidence of options including contracted item or refurbished item/s (where relevant) and trials undertaken
Detailed explanation of scope of works (where relevant)
Consideration to gap funding implications
Adequately integrated relevant consumer assessments and consumer attributes into clinical findings
Consideration of consumer goals and attributes
Consideration of planned training or additional support (where relevant)
Demonstrated urgency of need
Demonstrated consistency in the content of the application and alignment of decision making with expected standards
Demonstrated effective consumer engagement in the item/s selection process
What criteria do I need to meet?
This credentialing level is assigned based on an assessment of eligibility, experience, training and skill. If you want to know more about eligibility you can click here .


What Standard am I measured against?
All registration and credentialing requests are measured against the registration and credentialing standard, 'The Standard'. To find out more about your profession or area of practice go to The Standard.
SWEP AT Practitioner Registration Eligibility.
Threshold credentials have been set in line with industry standards, to establish which AT Practitioners are eligible to apply for registration and credentialing in each SWEP AT Category.
Threshold credentials and additional AT practitioner requirements for AT categories and levels can be found here.
Where do I Register or upgrade my levels?
You will need to access the
SWEP Portal
to register and credential for the first time or follow any of the other credentialing pathways.
What options are available to me?
When clinicians register and credential with SWEP, they will follow one of the two pathways outlined below to complete the credentialing process: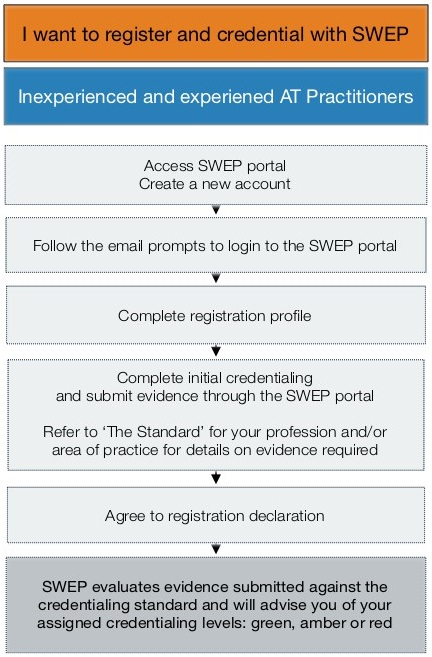 Once AT Practitioners are registered and credentialed with SWEP, credentialing can be managed, maintained or used as outlined below: